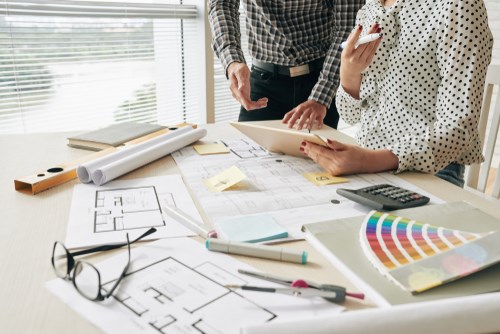 There are few things more relaxing than a long, hot soak in a beautiful, whirlpool bath or a steamy shower after an exhausting and stressful day—especially when in the comfort of your own home. Aside from its functional purposes, the bathroom can also serve as a haven for rejuvenation and wellness—which is why many homeowners focus on upgrading this important area with luxurious touches during home improvement projects.
While minor bathroom remodeling work can be handled by a non-professional, upgrading the bathroom with a real makeover should be left to a reputable, licensed contractor. However, finding the right experts to take over your bathroom project isn't always as simple as hiring the first contractor you meet—even for one-day remodel projects or simple bath conversions. Far too many homeowners fall victim to unreliable, unprofessional, or scam artist contractors every year, losing time, money, and plenty of patience in the process.
Luxury Bath is a reliable, honest bathroom remodeling company with plenty of experience renovating bathrooms in homes throughout the country. We're well aware of the problems our customers have run into trying to find a good contractor for their bathroom projects—and have helped countless of our customers recover after going through their own traumatic experiences with unlicensed contractors and scam artists. To avoid a potential disaster when hiring your next bath company, take a look at these tips on finding the most experienced and reputable bath contractor you can find, brought to you by our experts at Luxury Bath.
Recommendations From Family and Friends


To find the best bathroom remodeling company, start by asking your family, friends, neighbors, and co-workers for recommendations. You will most likely find someone from your inner circle who has had a prior experience hiring a contractor. Make sure that the recommendation is genuine and honest, and comes from someone who has worked with the company in the past. In other words, if someone recommends their cousin, uncle, best friend, or ex-boyfriend to you, take the recommendation with a grain of salt.
Perform a Thorough Internet Search


Today, most businesses that are reputable established, and committed to your satisfaction have a strong online presence. Doing a simple search on the internet for local bathroom remodelers will surely yield a number of professional contractors in your area. Check each company's website, online reviews or client testimonials, and if possible, a portfolio of their past work to choose potential contractors you'd like to contact. Be sure to check for any social media accounts that the company might have, and take a look at third-party review sites, like Angie's List, Yelp, and Google Reviews to see what their past customers think of the company.

If the company is nowhere to be found online, proceed with caution—especially if their quotes for the project are too good to be true. It could be that the contractor is unlicensed, uninsured, or inexperienced. It could also mean that the contractor isn't a contractor at all—and is trying to take advantage of you.
Referrals From Trusted People in the Real Estate Industry


Always keep in mind that a dependable bathroom remodeling company will most likely have a solid reputation in the industry. Trust in a company's excellent reputation from professionals in the business, and contact a local real estate company or a trusted agent and ask them for recommendations on contractors in the area.
Notice Yard Signs on Recently Renovated Homes


Although most advertising is done through digital, print, or other types of media, bathroom remodeling companies often advertise on homes they've recently renovated. If you've noticed a beautifully re-done home recently, chances are the contractor has left a yard sign out to advertise to potential clients.
However, before you sign a contract with a particular contractor that you found through yard signs, make sure that you research more about the company online, and ask for a consultation to discuss your project in full detail.
The Most Reliable Bathroom Remodeling Contractor


With more than 200 offices across the nation, Luxury Bath is dedicated to providing outstanding bathroom remodeling services across North America. With our exceptional team of highly trained contractors, talented bathroom designers, and expert installation specialists, we work hard to provide our customers with beautiful bathroom spaces, made with top-quality, eco-friendly fixtures and materials.
If you want to learn more about how Luxury Bath can help you create the bathroom of your dreams at a price you love, call or email us today to speak with one of our consultants. You may also fill out this online form to request a free in-home estimate for your upcoming bathroom project.
---
Comments
No one has commented yet. Be the first to post one!