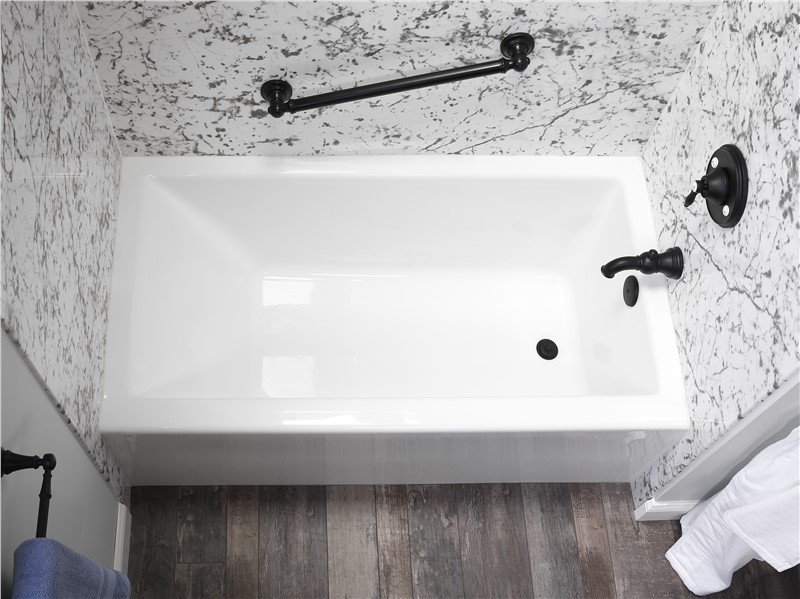 If you're wondering whether bathtub replacement might be a better choice than a bathtub liner, you're in the right place. In this article from our expert team at Luxury Bath, we're looking into the benefits of a full bathtub replacement vs. a bathtub liner. Take a look at some of the reasons why a bathtub replacement is often the best choice in the long run for those that want the best for their home and investment.
When the issues with your bathtub are minor and cosmetic, a bathtub liner can improve the look of the tub without a full replacement. However, not all homeowners should take advantage of the quick fix of a bathtub liner. As easy as it can seem to just cover up the problem areas, bath liners may not be able to solve more serious issues—like water damage, mold or mildew, which are problems that can require a more comprehensive solution like replacement.
Limitations of Tub Liners
Bathtub liners are a quick and fast solution to cover up minor aesthetic issues. However, as we mentioned earlier, the wet area of the bathroom is prone to serious issues due to water damage due to the constant and daily exposure to moisture.
If your bathtub and wet area are very old, they need to be thoroughly inspected to identify any potential underlying issues. Problems that may seem to be only cosmetic can actually be quite intense. It's very important to address any underlying issues that affect the walls or flooring around and underneath the tub before you move ahead with any improvements. If any issues are found that require the removal of the existing tub, then a replacement tub should seriously considered over a bathtub liner.
Additional Benefits of Bathtub Replacement
While bath liners can be convenient when the budget is tight and the issues are small, they don't provide as much value to your home as a bathtub replacement will. There are some great reasons why a bathtub replacement beats installing a new liner in almost all situations. Some of the biggest reasons include:
Structural Improvement: While a new liner can give the tub a fresh face, it doesn't take into account underlying issues that may be going on in the wet area. With a bathtub replacement, any underlying structural issues can be remedied before the new tub is installed.
Design Freedom: Bath liners come in many different styles to choose from. However, tub replacement options allow you to also change the style of the bathing area—transforming your traditional tub into a beautiful spa tub, a bath and shower combination model to save space, or a walk-in option for added safety.
Higher Value: By installing a replacement tub and making the commitment to an upgraded bathing experience, you're investing in a long-term solution to improve your bathroom now and into the future. This means that your bathtub replacement can add more value to your home.
Bathtub Replacement with Luxury Bath Technologies
The bathtub is a prominent feature of the bathroom, which is why our team at Luxury Bath Technologies is determined to provide a bathtub replacement that is as beautiful as it is functional. We believe in staying ahead of the curve, which is why we also offer the latest in walk-in tubs and other bathing options at unbeatable prices.
In addition to our superior product offerings, we offer exceptional installations performed by trained and experienced contractors. Ready to explore your bathtub replacement options? Then give us a call to speak with one of our agents about our bathroom remodeling services or fill out our online form to schedule a free, in-home estimate.
---
Comments