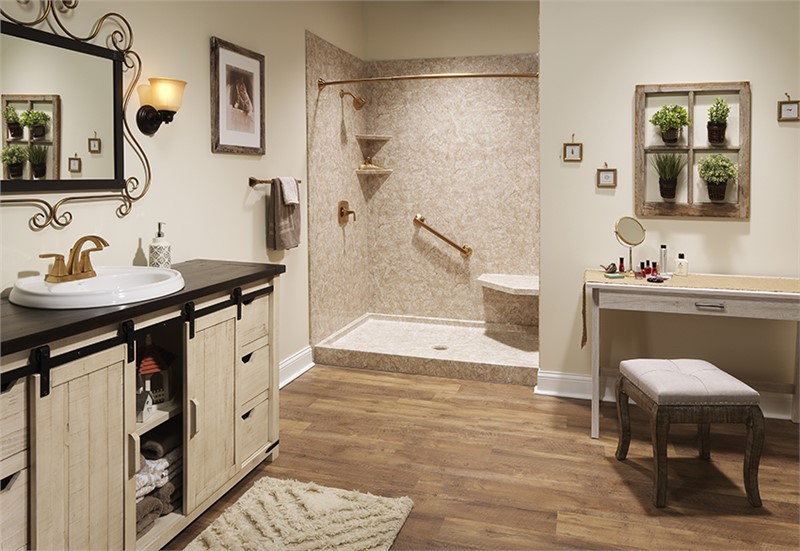 Whether you're rushing in the morning to get out the door on time or relaxing in the tub at the end of a long day, you want your bathing area to be a space where you enjoy spending time. If yours falls short, there are ways you can create the elegant bathing area you want without spending a small fortune.
In most bathrooms, the tub and shower area are the space's focal points. Making updates there impacts the style of the entire room while also allowing you to improve functionality and, if needed, accessibility.
Elegant Bath Colors
One key to creating an elegant bathing area is to keep things simple—but simple doesn't have to mean boring. Once you've selected the color of your tub or shower base, consider a marble look for the walls in complementary patterns and colors.
| | | |
| --- | --- | --- |
| Sandalwood | Arctic Ice | Sierra Sand |
For a white or gray tub or shower base, consider walls with predominantly gray patterns such as Arctic Ice. If you choose a biscuit or almond tub or shower, options in the brown family, such as Sandalwood or Sierra Sand, are beautiful choices.
When it comes to the colors of fixtures and accessories, such as the faucets and grab bars, polished brass is an excellent complement to the biscuit or almond tubs while chrome looks beautiful with white or gray tubs or showers. Of course, this is a matter of preference, and the design professional you work with can discuss all of your options and show you all the possible color combinations.
Elegant Bathroom Details
Add live plants, art work, and a fresh coat of paint to tie the entire look together. Both plants and artwork bring a pop of color without taking away from the elegant look you want to achieve. When choosing paint, opt for colors that complement rather than compete with the choices you've made for your bathing area.
Functional Elegance for your Bath
Your elegant bathroom must also be functional, so discuss available convenience and accessibility items with your design specialist. Options include:
Grab Bars
Shower Foot Rest
Attached Shower Seat
Built-In Shelving and Caddies
Soap Dishes
All of the above can be installed in such a way as to not distract from your style choices.
Luxury Bath offers products that give you the elegant, high-end look of marble or stone in an incredibly durable acrylic—and at surprisingly affordable prices. Are you ready to make a budget-friendly change to your bathing area? Contact Luxury Bath today to learn more about our products and services. You can also fill out our simple online form to schedule a free, in-home consultation and accurate cost estimate.
---
Comments