About Us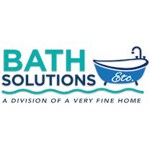 Bath Solutions, Etc.
As a division of A Very Fine Home, Inc., Bath Solutions, Etc. has a team of skilled craftsmen with extensive experience in bath renovation and remodeling. In fact, we have been remodeling Florida homes in Bonita Springs, Fort Myers and the surrounding areas since 1972. In particular, our installers are specialists in aging-in-place solutions to make bathrooms that will last a lifetime.
We are deeply committed to caring for our customers – and it shows in our customer service!
Zero Pressure – our design consultants are educators, not salesmen. We give you the options and the pros/cons of each, and you make all the decisions.
No Long Sales Spiels – we value your time and won't waste it!
Customer Satisfaction – we are 100% committed to you being happy with your new bathroom. Not happy? Then our job isn't done.
Communication – You are always in the loop, knowing what we are doing and when.
We look out for our customers like we would for our own families; this has been the key to our success for last 4 decades! Have a look at our reviews to see how well we're keeping our promises.
If you are looking for a trusted bathroom remodeling partner to make your home a joy to live in for years to come, get in touch with us at Bath Solutions today!
Also serving Rochester and Western New York.