Your bathtub surround is the perfect way to extend the beauty and style of your Luxury Bath tub up the walls and throughout the wet area. Just like the bathtub you select, each of the surrounds offered by Luxury Bath are constructed of ABS-backed acrylic that is designed to be installed directly over your existing tile or walls. This ensures that for the entire life of your new Luxury Bath tub surrounds, they are guaranteed never to warp, crack, sag or separate from the wall—guaranteed!
New Impressions Surrounds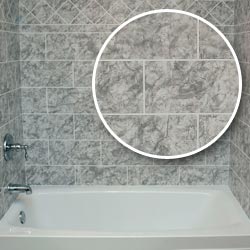 Luxury Bath's exclusive Impressions series combines the look of real Italian ceramic brick tiles with the dura-bility and cleanability of maintenance-free acrylic. These new wall panels feature 3-Dimensional engraved lines along with new contemporary patterns for a more upscale appearance in the bath enclosure. The Impressions series is available in all of Luxury Bath's colors creating an infinite number of unique and personalized design options.
Bathtub Walls
No matter what color tub you choose, you can select more than 86 different combinations of colors, patterns and styles of bathtub walls and accents that can accompany it. Choose from textured tile designs, trim, over 25 contemporary color options and completely customizable soap dishes, caddies, hardware and more!
Additionally, you'll love that all of our tub surrounds are infused with Microban® protection, a revolutionary technology that actively inhibits mold, mildew and other microbes. Day after day, the Microban works to make your bathtub, bathtub walls and all other Luxury Bath products cleaner and safer for your loved ones.
When you're ready to get the bathroom remodel of your dreams, call the pros at Luxury Bath! We have a wide selection of bathtubs, surrounds, and other products to make your bathroom the beautiful, affordable oasis you've always wanted—in as little as one day! Call or fill out our quick contact form to get started.