Your new shower is a great place to relax and unwind. In fact, bathrooms are one of the most highly-trafficked rooms in your entire home. It's no wonder you want to keep it as beautiful and functional as possible. That's where Luxury Bath comes in—we have a wide selection of shower types and an even wider array of shower surround options. With over 25 different colors and 17 different tile designs to choose from, plus a plethora of other accessories and hardware choices, the creative possibilities for your shower surround are nearly endless!
New Impressions Surrounds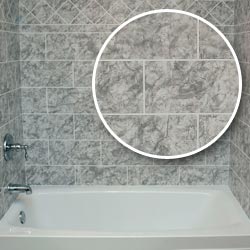 Luxury Bath's exclusive Impressions series combines the look of real Italian ceramic brick tiles with the durability and cleanability of maintenance-free acrylic. These new wall panels feature 3-Dimensional engraved lines along with new contemporary patterns for a more upscale appearance in the bath enclosure. The Impressions series is available in all of Luxury Bath's colors creating an infinite number of unique and personalized design options.
Shower Walls
No matter what kind of shower walls you're planning on installing, you can rest assured that they're made to last. All of Luxury Bath's products are made of highly-durable, multi-layer acrylic that is guaranteed not to bend, warp, crack or separate. That means that your new shower from Luxury Bath will be as beautiful and function decades down the road as it is the day it's installed. Additionally, our shower walls—and all other products offered by Luxury Bath—are infused with Microban® protection, which wards off mold and mildew growth. Your new shower surrounds will be cleaner, more durable and more affordable than you thought possible!
For more information about Luxury Bath's shower walls, shower systems, bathroom accessories and more, get in touch with us today! You can speak to one of our friendly representatives or fill out our quick form to schedule your FREE, in-home design consultation.