Your bathroom should be clean, fresh, and pure. Recently, Luxury Bath® released the most innovative and exclusive product line in bathroom remodeling. This technologically advanced line of custom tubs and showers are only available through Luxury Bath, and designed to provide you with a custom, clean retreat.
Every Luxury Bath is protected with Microban®, designed to inhibit the growth of mold and mildew. Learn More
Luxury Bath's acrylic is the heaviest gauge in North America, more impact and chemical resistant, and is less porous than all others, making it the most durable and easy to clean surface for your bath enclosure.
Exclusive to Luxury Bath are LuxSeal® shower doors. LuxSeal glass surface is ultra-smooth, optically clear and has a protective layer for easy cleaning.
Each tub or shower is manufactured for your specific bathroom and professionally installed quickly, at just a fraction of the cost of a full bath remodel.
Luxury Bath provides you with the finest color matched silicone sealant in the industry that inhibits the growth of mold and mildew and fully cures overnight for next day use.
Luxury Bath's exclusive SuperTach adhesive will guarantee that your acrylic walls will be anchored in place for the lifetime of your home.
The Exclusive MICROBAN System

The use of antimicrobial technologies can help make products greener by protecting them against the damaging effects of bacteria, mold and mildew. Products that stay cleaner and fresher for longer reduce the environmental impact caused by more frequent cleaning, laundering and product replacement.
Microban protection is registered with the EPA for all applications and Microban additives can be found in leading consumer and industrial products around the world. In addition to Luxury Bath, Microban also proudly partners with Conair®, Rubbermaid®, Bissell®, Reebok®, Whirlpool®, Kimberly Clark®, and Sherwin-Williams®.
Microban is infused into the surface of all Luxury Bath acrylic products, providing you with continual assurance that your bathing surfaces will remain clean and fresh for longer.
Experience the Accessible Difference
Luxury Bath's product lines are aesthetically pleasing and functionally accessible. We are committed to our customers' continual freedom and independence. Let us replace your current, high-sided tub with an accessible walk-in tub. As with all Luxury Bath products, these accessible tubs are made of the finest materials available. Additionally, add optional accessories, like grab bars or whirlpool jets. Luxury Bath also specializes in barrier-free showers for people with limited mobility. When it comes to showers, accessibility and luxury have a lot in common. Some of the hottest design trends — large, walk-in showers with no doors and versatile body sprays — fit right in with designs that make showers safe, accessible and enjoyable to use.
Luxury Bath's unique designs make bathrooms work for everyone, regardless of age, size and ability, ensuring that your bath system will serve you well for years to come.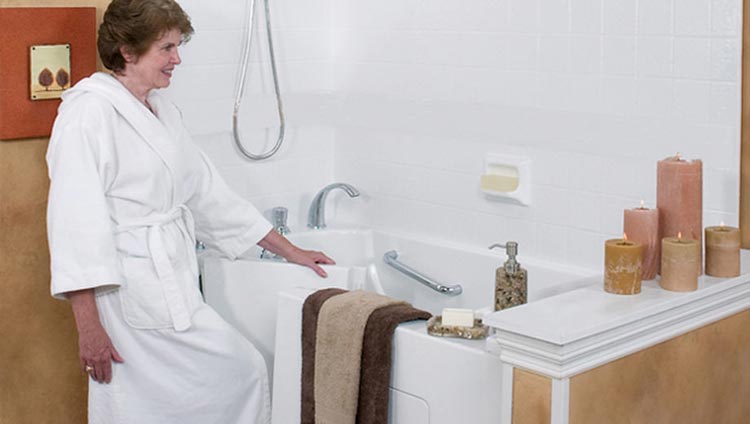 Experience the LUXSEAL Difference
Luxury Bath's glass and shower enclosures are available in a variety of patterns and frame finishes, all featuring our proprietary LuxSeal glass treatments and tapered bottom track. LuxSeal transforms the glass surface into an ultra-smooth, optically clear, protective layer for easy cleaning, virtually eliminating unsightly water marks and mineral deposits. It reduces glass cleaning by almost 90 percent. The trackless, frameless door design eliminates the build-up of soap residue and mildew, allowing for quick and easy cleaning. These doors are available in 3/16", 1/4" and 3/8" heavy glass, in a variety of contemporary styles and finishes.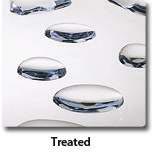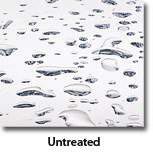 Eco Friendly Choice
At Luxury Bath, we realize that reducing our carbon footprint involves more than just responsible material selection and manufacturing processes. When you want to take every step possible to make your home eco friendly, a Luxury Bath shower system or bath is attractive for your home and for the environment!
All of Luxury Bath's products are 100% recyclable, and most of our products fit right over your existing system, eliminating the need for a complete tearout and added waste to our landfills. Exclusively, Microban extends the life of your product by making it easier to clean, reducing the environmental impact and extending the life of itself.
When you want to "Go Green," do so with Luxury Bath!
Manufactured in the USA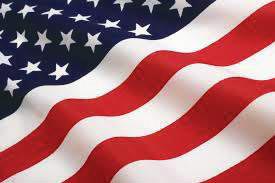 Luxury Bath is America's premier manufacturer of luxury bath and shower systems. All Luxury Bath products are produced in our facility in Libertyville, Illinois. Our commitment to producing domestically, directly impacts our country by keeping Americans working. Our commitment to quality ensures that your purchase will satisfy you for a lifetime.