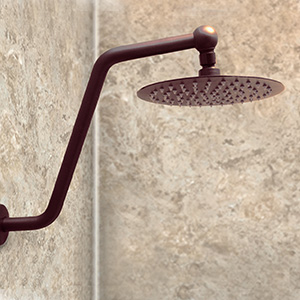 Turn you bath enclosure into a spa-like setting with one Luxury Bath's exclusive rain shower heads! This addition to your new bathroom remodel will energize and transform ordinary water into a sensational, hydrotherapy spa-like experience! Our wide selection of shower heads harness existing home water pressure to create powerful streams of reviving and therapeutic massages over your entire body.
Immerse yourself in the soothing luxury of our rain shower head. It includes a 13" 'S' shower arm. The 8" swivel shower head streams down through 160 clog-free rubber nozzles. Our rain shower head is available in Chrome, Brushed Nickel, Matte Black and Oil Rubbed Bronze.
Affordable and attractive, a shower spa is engineered for optimal performance in your new bathroom remodel!
What could be better than experiencing relief from everyday stress, tension and muscle pain in the comfort of your new bathroom? With a new Hydrotherapy shower spa, exclusive to Luxury Bath, you'll be relaxed and rejuvenated every time you step in! Add a shower spa to your next bathroom remodeling project and you will fall in love with your new bathroom.
You can also add some of our customizable soap dishes, caddies and other shower accessories to finish off your perfect spa-like shower. From a single soap dish to corner and horizontal shelves of many widths, heights and shelf sizes, there's something perfect for any shower spa!
To learn more about all the benefits of Luxury Bath's wide selection of shower heads and related products and accessories, get in touch with us today! You can speak to one of our friendly representatives for more information and to schedule your FREE, in-home design consultation. Call or fill out our quick online form to get started.