About Us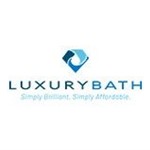 Since 2001, Luxury Bath has been a leader in the bathroom remodeling industry. We have perfected the technology of creating custom acrylic liners that fit right over your existing tub, shower and walls, effectively eliminating messy and time-consuming demolition!
We are the bath remodeler of choice for families in Raleigh and throughout North Carolina who want to work with a company that values customer service and quality. Our attention to detail and customer satisfaction is at the core of our business, showing through in each project: from your initial vision and design consultation to your final renovated bathroom.
When you choose Luxury Bath of Raleigh for your bath remodel, we always make sure to keep our customers informed every step of the way in order to keep your stress levels low and to minimize disruptions to your home and lifestyle. Of course, our bath remodeling solutions only take 1-2 days, so you may be shocked by how painless an experience it is!
Whether you are looking for a replacement bathtub, a custom acrylic liner, or tub-to-shower conversion, we are sure to have a solution that works for your budget and your family. Get in touch with us and let us know what you had in mind - we'll promptly get you on your way to a beautiful, new bathroom!