About Us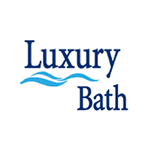 Bathroom remodeling should be an exciting experience and opportunity to improve your life, not a hassle that costs too much or requires sacrifices. At Luxury Bath of Crossville, we are proud to provide high quality remodeling services in Crossville, Knoxville, Chatanooga, and surrounding areas that make getting the solution you need simpler, more affordable, and catered to your every desire.
We have an impressive selection of beautiful baths and showers, all of which are made with nonporous acrylic for lasting durability and style. We even provide a variety of accessibility remodeling options including various walk-in tubs and zero-barrier showers. Do you want to convert from a shower to a tub or vice versa? Not a problem! Our bathroom conversions are seamless and almost always complete in just one day!
Whether you're looking for something simple for a tight budget or an extravagant renovation with all the amenities, our Crossville bathroom remodelers provide professional service that leaves your space completely mess-free while taking every measure to ensure absolute quality.
Remodeling is an important investment, so you should never have to settle for less. When you choose Luxury Bath of Crossville, you get the exact style and function you want at a reasonable price, expert installations, and remarkably courteous service!
To get started with the best bathroom remodels Crossville has to offer, call us today or use our online form to request a free, no-obligation estimate now!