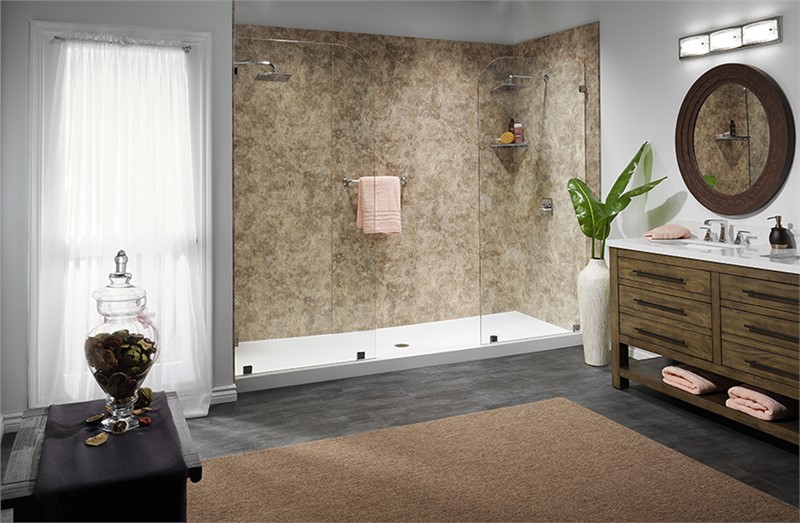 When you envision your bathroom, what is the overall feel you'd like to achieve? For many homeowners, it's a nature-inspired design that brings elements of the outdoors into the space.
There are several ways to achieve this, and you don't have to spend a fortune to get the look you want.
Colors Inspired by Nature
When you think of the beach, what colors come to mind? What about the mountains or your favorite park? Bringing those colors into your bathroom in a thoughtful way can be the foundation for your nature-inspired bathroom.
Let's take the beach as an example.
When you're at the beach, you've got the sand at your feet and two shades of blue—the water and the sky. To bring those colors into your space, you could choose a wall surround in a predominantly brown pattern, such as Canyon Rock or Santa Cruz, along with a shower base in Almond or Sandbar and fixtures in oil-rubbed bronze.
| | |
| --- | --- |
| Canyon Rock | Santa Cruz |
From there, choose a shade of blue for the walls that reminds you of your time at the beach and finish the look with sand-colored bathmats and towels. Add your favorite beach-inspired photos to the walls and, perhaps, a basket of beach grass for even more visual interest.
The same principles can be applied to any natural setting, such as the mountains or even a snow-covered hilltop, you'd like to pay homage to in your bathroom.
Simple, Affordable Changes
As you can see from the example above, achieving the desired look doesn't require a total renovation. Hiring a professional to focus on the bathing area is a smart way to completely transform the look of your space quickly and affordably. Other changes, such as painting and adding accessories, can be completed by you at minimal cost.
While the look of stone is the best way to get the natural look you want, you don't have to splurge for genuine stone. Luxury Bath offers wall surrounds in beautiful, natural stone patterns that are fabricated from durable, affordable acrylic.
Of course, your bathroom needs to be functional as well as stylish, and Luxury Bath offers a host of optional accessories such as shower foot rests, shelves, caddies, and soap dishes. Accessibility features, such as an attached bench seat or grab bars, can also be added.
Another benefit of our tub, shower, and wall surround services is that we complete most installations in just one day, so you won't have to wait long to start enjoying your beautiful, nature-inspired bathroom! Give Luxury Bath a call today to learn more about our products and services or fill out our online contact form now to schedule a free consultation with a talented design specialist.
---
Comments