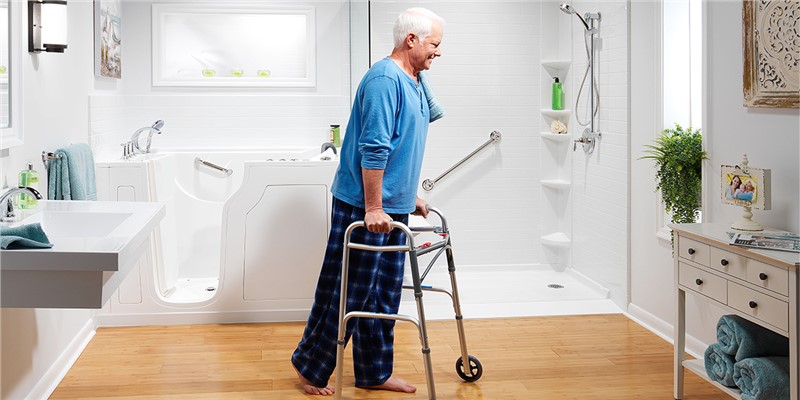 Are you planning to remodel your bathroom for improved accessibility? Would a walk-in shower fit your needs best, or do you prefer a walk-in tub? This is an important decision, and one that might be challenging to make. Not everyone has the luxury or space for both, as shown in the image. To help you out, below are some important things to keep in mind when deciding between a walk-in tub and walk-in shower, as well as the benefits that each has to offer.
Questions to Consider Before Planning Your Remodel
You know that you need a safer, more accessible bathroom. But what are your needs beyond that? Here are some questions to ask yourself that can help you plan your remodel.
Do you prefer a seated or standing bathing experience?
If you're used to using a bathtub, then a walk-in tub will offer the familiarity that you're looking for. If you prefer to stand when bathing, then a walk-in shower is best. You can also sit in a walk-in shower if you're able to use shower seating comfortably and safely.
Do you require assistance from a family member for bathing?
If you need a little help when bathing, then it doesn't really matter whether you choose a walk-in tub or shower. However, if you require a lot of assistance, then a walk-in shower provides enough room to make the process simpler for you and your caregivers.
Do you require wheelchair access to the bathing area?
Zero-barrier showers with safety seats are the ideal choice when you need wheelchair access. Getting into the tub from a wheelchair can be challenging, but some walk-in tubs have a wide entry or outswing doors. So, access can be more easily made. In general, a walk-in shower offers easier access for a two-person operation.
Do you prefer a quicker or more relaxed bathing routine?
Walk-in bathtubs take some time to use. You enter the tub, fill it, bathe, then wait for it to completely drain before you exit. If you like to take things slow, then this is no problem. However, if you prefer to get in and out quickly, then a walk-in shower is your best option.
Do you want therapeutic benefits from your bathing routine?
A shower can be soothing, but it doesn't offer the therapeutic benefits that a walk-in tub provides. For example, relaxing in a heated bath with water jets and air bubbles therapies promotes circulation that can ease muscle tension and promote healing. We offer five standard therapies with our Alexis walk-in tubs.
Do you share your bathroom with other family members?
If you can use a walk-in shower, then this is the best option when your bathroom is going to be used by the rest of the family.
With the basics taken care of, now we can get into the benefits of walk-in tubs and roll-in showers to help you make the best decision possible.
Benefits of a Walk-In Bathtub
Walk-in bathtubs are popular accessibility remodeling options, and for good reason. Here are a few:
Fits All Existing Standard 60" Tub Openings
Low Entry Threshold for Easy Access
Five Standard Therapies Included Our Alexis Walk-in Tub
Water-Tight Door Seals = No Leaks
Padded Seating For Comfort
Controllable Massage Jets
Adjustable Shower Wand
Build-in Grab Bar
Optional Shower Curtain Option
Ozone Therapy Purifies Water and Aids in Healing Skin Conditions
LED Lighting for Chromatherapy Benefits
Aromatherapy Bead Scented Reservoir Releases Relaxing Neurochemicals
Benefits of a Walk-In Shower
Walk-in showers make accessibility just as stylish as it is secure. Here are some of the reasons why many people opt for this accessibility option:
Low or No Threshold Entry for Walk-In or Wheelchair Access
Additional Ramp Option
Better Access for Caregivers to Assist
Optional Shower Seating for Safety and Comfort
Grab-Bars for Improved Safety & Stability
Options for a Variety of Wall Colors, Patterns and Accessories
Shower Door and Shower Curtain Options
Do you want to learn more about walk-in tubs and walk-in showers? Get a free consultation and quote from Luxury Bath today!
---
Tags
walkin tubs
low-barrier Showers
accessible bathroom remodel
---
Comments