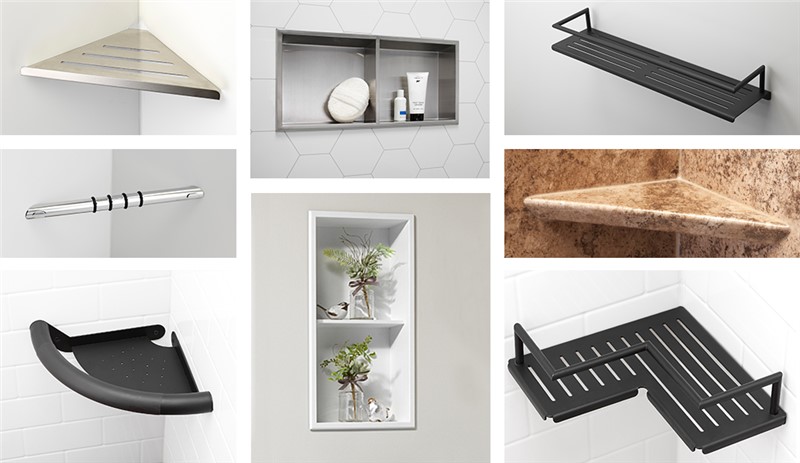 Remodeling your shower provides the perfect opportunity to make the most of your space. You might have some idea about the type of bathtub or shower that you want, the design, and how much you're willing to pay to get the job done. But don't forget about the finishing touches - the accessories that complete your dream bathroom.
Beautiful Bathroom Accessories Offered by Luxury Bath
There are many bath and shower accessories to choose from when getting a remodel from Luxury Bath— all of which are made from quality materials and brought to you by qualified installers. Here are some options that you might want to keep in mind when planning your next bath upgrade:
Storage Shelves: Keep your bottled soaps, shampoos, conditioners, and other items out of the way and within reach with built-in shelving, custom installed at the height you require. We carry stylish acrylic and metallic shelving for whichever accent you prefer.
Soap Dishes: Are you tired of your soap bar slipping onto the shower floor? Keep your soap right where you want it, safely stored where it won't get under your feet or dissolve before you can use it the next time.
Shower Niches: If you want a modern twist to your shower's design without losing storage space, then a shower niche is a great addition - installed horizontally or vertically.
Shaving Foot Rests: For those who shave in the shower, using a shower stand can make this mundane task safer & simpler, less awkward and more enjoyable.
Once you've selected the right accessories for your needs, all that's left is to fine-tune the look of your space. Many of our products come in a variety of metallic finishes or acrylic colors to complement the bath and wall color that you choose.
Why Luxury Bath Wall Surrounds?
Customization is important when designing the bathroom that you need, but that's not the only reason to choose Luxury Bath for your remodel. Additional benefits of our wall surrounds include:
Patented, laser-etched "Impressions" wall designs for the look of grout without the hassle of mold & mildew
Durable High-Tech Polymer That Doesn't Crack or Chip
A Variety of Tile Patterns and Color Options
Mold and Mildew-Resistant and Stain-Fighting Surfaces Protected by Microban
Do you want to learn more? Get in touch with Luxury Bath today to find the bath, shower, and accessories that you want for your upcoming renovation!
---
Tags
Storage
Shelves
foot rest
bathroom remodeling company
---
Comments
No one has commented yet. Be the first to post one!