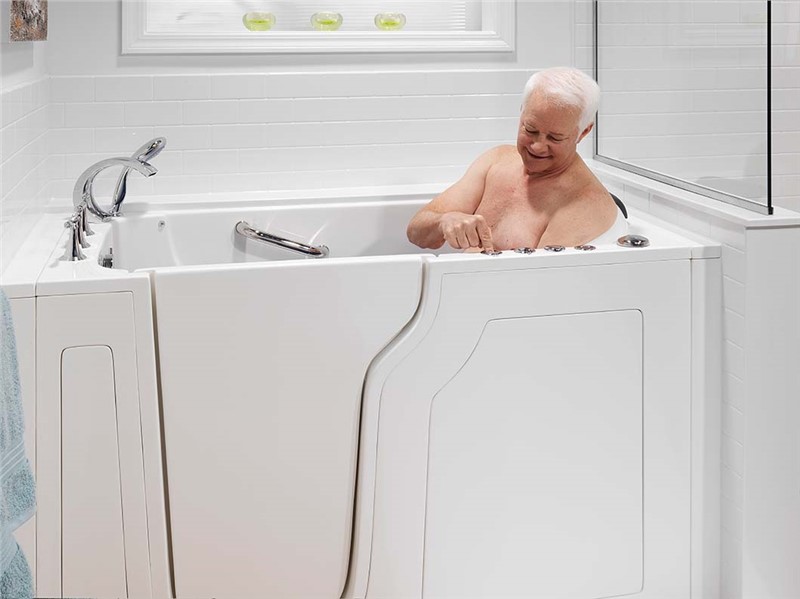 Do you enjoy a day at the spa? Or wish that you could indulge in relaxing hydrotherapy a little more frequently? All the amenities of the spa-experience can be integrated into your home bathroom with the right tools. For example, a walk-in tub fitted with jets and soothing air bubble therapy can allow anyone an accessible and comforting soak at home.
Remodeling your bathroom to get a relaxing spa-like experience takes a little planning. But it is possible with the right color schemes, fixtures, and accents. Here's what you will need:
Choosing the Right Tub
A walk-in bathtub provides the right balance between luxury and accessibility. And the good news is that these models come in a range of sizes with many different features. You might be getting more accessibility to enjoy soaks in the tub as you age gracefully, but you'll hardly notice beyond all the luxurious features. Between the climate-controlled water and massaging jets, you'll be too busy enjoying the comfort. Walk-in tubs offer a wealth of benefits and are known to ease the pain of the following ailments:
Back Pain
Muscle Pain
Diabetes & Circulatory Diseases
Arthritis
Rheumatism
Sports injuries and Other Physical Ailments
Our quality walk-in tubs provide a durable and easy-to-clean surface with leak-proof seals. The control panel should be easy to reach from a seated position. And the seat should be designed ergonomically, with extended-use comfort in mind. We offer complimentary seat and neck cushions on our Liquid Accents Alexis Walk-in tub for added comfort.
Adding the Right Shower
A walk-in tub is an excellent choice for soothing hydrotherapy, but you'll likely want to keep a convenient shower for daily hygiene. Choose a large, barrier-free shower with a gentle rain shower head and natural elements like stone and wood textures to emulate the spa experience in your shower. A glass shower enclosure will allow light in, keeping pace with the soothing environment. And we highly recommend adding a shower-safe Bluetooth speaker to pipe in relaxing sounds as you enjoy your new space.
Finishing Touches for the Perfect Spa Bathroom
The overall color scheme of your spa-like bathroom should hinge on two things. Bright whites and soothing color palettes that incorporate seafoam green, aquamarine, ocean blue, or lavender are the best options for eliciting a calming emotional experience. And touches of nature that include stone, wood, earth tones like cream, beige, and brown, as well as live greenery can help. And natural light is always a friend of interior design. While you may be resistant to add windows to an intimate space, you can always use special effects to obscure details like rainwater glazes to glass. But if windows exist, do not cover them up!
The Takeaway on Creating a Spa-Like Bathroom Oasis
A walk-in bathtub is the perfect addition to any spa bathroom. It's like having access to a hydrotherapy pod without leaving the comfort of your home. There is a long list of benefits from enjoying a soak in a modern bathtub, including relief from many of the ailments of aging. From a quick way to melt the stress away to routine therapy to ease the aches and pains of arthritis or improve circulation, a walk-in tub is the perfect reason to create an at-home spa bathroom. Call the bathroom remodeling pros at Luxury Bath to get started designing your remodel with a walk-in bathtub today.
---
Comments
No one has commented yet. Be the first to post one!