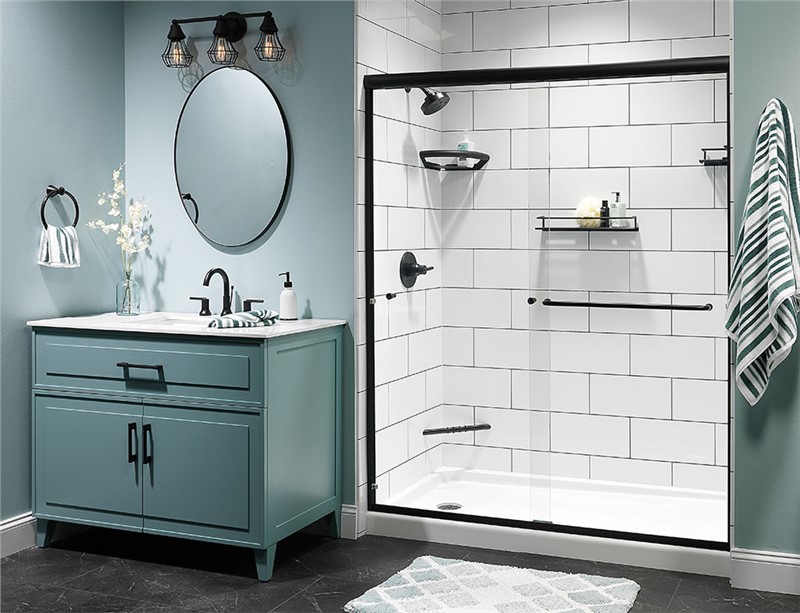 Designing a new space involves a lot of moving parts. If you're putting time and money into building your new luxury bathroom, you want to make sure your shower door compliments the design and enhances the overall appearance of your new space. While this may seem like a small and potentially overlooked detail, choosing the right shower door for your luxury bathroom can actually make a big difference. As part of our bath remodeling, Luxury Bath gives you high-quality shower door options for showcasing your new space.
LIQUID ACCENTS GLACIER DOUBLE SLIDER SHOWER DOOR
This frameless double slider door is a beautiful option for showcasing your new bath remodel or replacement shower door. It features specially-designed Euro style header and roller bearings that allow for sleek and silent movement, with solid, yet lightweight glass. If you're looking for a combination of aesthetic and quality, this is the door for you. We offer four metal finish options, glass protection and two 24" through-the-glass towel bars. There is also a Glacier Tall glass version that features 76" panels, a towel bar and two knobs. Those two doors come in clear or rain glass. We even offer a Glacier S-Curve Clear Glass Door for the ultimate slider door style. These beauties will certainly live up to your standards. Offered in:
Chrome
Matte Black
Brushed Nickel
Oil Rubbed Bronze
CAYMAN SINGLE-SLIDER AND DOUBLE SLIDER BARN-STYLE SHOWER DOORS
The Cayman barn-style single slider features easy-glide rollers and stoppers for quiet movement. It has recessed finger pulls and one 31" sliding panel, with a fixed panel to retain splashed water.
The Cayman barn-style double slider adds a deluxe feeling of elegance with two super-smooth, gliding roller wheels on top. These doors have a modern look with limited framing allowing for full view of your beautiful new bathroom space.
Both of these doors are offered in:
Chrome
Matte Black
Brushed Nickel
Oil Rubbed Bronze
They come with a polycarbonate seal and easy-to-clean, clear glass. You can feel confident these high-quality, stylish shower doors will keep your bathroom looking new for years to come.
LIQUID ACCENTS ARIES PIVOT SHOWER DOOR
If your new bathroom design includes a narrow shower enclosure, the sidewinder pivot door can offer a unique solution. With surprisingly easy installation, this door has 2-3 inches of adjustable width and ¼" clear glass only for a stunning appearance. This door also features a classic, two-sided, C-pull handle for easy grip opening. The Aries is perfect for openings from 29" – 47" wide.
Upgrade Your Bathroom With Luxury Bath
Install a beautiful new shower or tub with Luxury Bath and watch your space transform. We make sure all of our installations are done by expert professionals who understand your specific needs. We never sacrifice style or quality, and you can trust us to give you a luxury remodel and our lifetime guarantee.
---
Comments