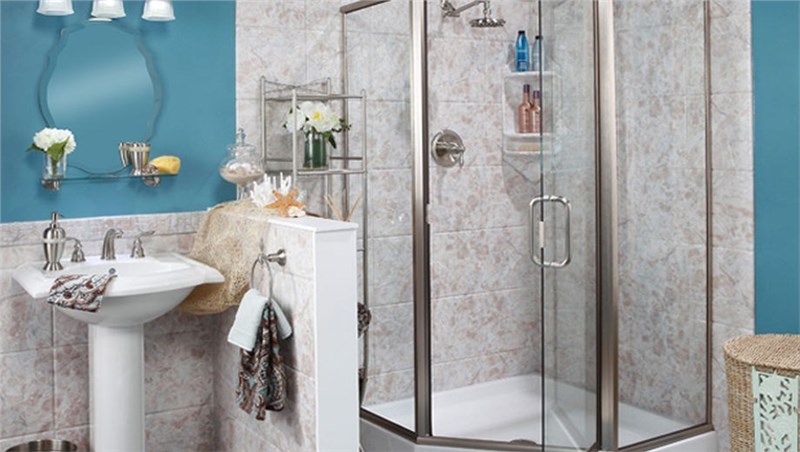 When it comes time to sell your home, you naturally want to get top-dollar for it, and remodeling your bathroom(s) is a great way to do just that. A beautiful, new bathroom can add tremendous value to your home—but it doesn't have to break the bank. While an average traditional bath remodel costs about $20,000, Luxury Bath is here to tell you there are better (and more affordable) ways to update your space. Here, we list our top 5 favorite bathroom remodeling tips!
1. Upgrade Small Details for a BIG Impact
Sometimes, a great remodel is all in the details. By simply replacing the current knobs, pulls or other drawer accents in your bathroom, you can transform the entire look of your space in just a single day! You can find a range of stylish hardware options to choose from at local home improvement stores or online; and most are very inexpensive! To vastly update the look, also consider replacing your bathroom faucet with a new, modern version that matches your bathroom's new accents. You won't believe what a difference these small changes can make.
2. A Little Paint Goes a Long Way
Another great DIY way to update your bathroom is to grab some rollers and a few cans of paint. Like the small accents, the color of a bathroom can instantly set the mood and tone of your space. Create exactly the mood you want with a gallon of paint. Choose blue and green tones for a relaxing feel; taupes, browns, and other earthy shades for a natural, neutral look; or select brighter colors for a bolder look. No matter what shades you choose, be sure to apply satin finish to make your bathroom pop!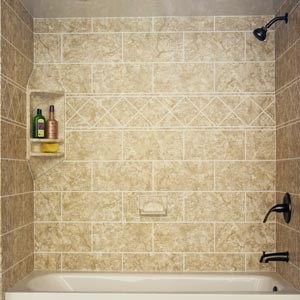 3. Go Easy On the Tile
As beautiful as tile can be, the purchase and labor costs to get it installed can quickly add up. As an alternative to tile, try one of Luxury Bath's exclusive wall surrounds. These "tiles" give you the same look and feel of traditional tile without the high price tags. They also come in a variety of colors, patterns and styles (and all with a Lifetime Warranty), so you can find the perfect choice for your unique home.
4. Bathroom Cabinets
Sometimes bathroom cabinets simply need to be replaced. If you're selling your home, be sure to get rid of any extremely worn, broken, or inoperable cabinets that are beyond repair. Because the cabinets in a bathroom are such an integral element, it's important to install something that's both beautiful and durable. Luckily, most home improvement stores have a variety of stock options to choose from that can include everything from a sink, cabinet, and sometimes a mirror, too.
5. Bathroom Sinks
Designer pedestal or standalone sinks may look nice, but when you're looking for a cost-effective alternative, there are plenty of drop-in sinks that can have just as much impact on your bathroom's style—but not your budget. Drop-in sinks come in a variety of colors and styles, and are easy to install by yourself. Some less-expensive models can be found for under $100. Or, if you're an experienced (or very daring) DIY-er, you can create your own drop in sink using an old dresser. Simply cut out the top of the dresser for the sink insert, cut holes in the back for plumbing, add your desired accents, and voila! You have a brand new, custom sink.
6. Hang a New Set of Trackless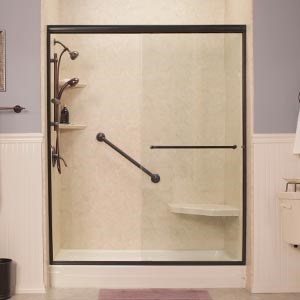 Frameless Shower Doors
An unsightly set of shower doors will immediately decrease a home's value. Tracks filled with soap scum, shampoo residue, and mold, along with glass streaked with soap build up and water spots, can make even the most upscale and contemporary bath look worn and outdated. With trackless, frameless doors starting under $200, the do-it- yourselfer can quickly remove and reinstall new shower doors in as little as one hour. Your bathroom will look new again and the perceived value of the bath enclosure will far exceed the amount you have invested in the shower doors.
Do you have any other ways to cut costs when completing a bathroom remodel? For more information on bathroom remodeling with Luxury Bath please fill out a request for a Free Quote, and we'll help you put your bathroom remodel dreams right within your means!
---
Tags
shower doors
bathtub wall surrounds
remodeling tips
---
Comments