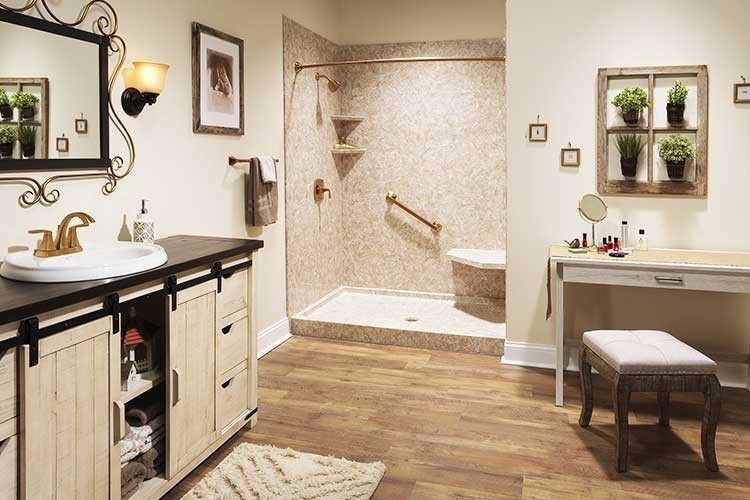 When you step into your home's shower, what do you see? If grimy fixtures, stained shower walls, and cracked tile are the first things you notice, then it might be time to consider investing in a shower renovation. There are many different shower replacement options available to homeowners, from a complete re-do of the space to shower liners and custom shower system installation.
At Luxury Bath, we know that it can be overwhelming to pick the services and features right for giving your home's shower a makeover, and we're here to help you make a decision that adds long-term value, style, and convenience to your local bathroom.
Benefits of a One Day Shower Install Over a Complete Bath Renovation
The first things that you need to consider are the time and money that you have available to commit to a shower renovation, and many homeowners are looking for the fastest solution possible that can ensure high-quality results with their project. While a complete bathroom renovation can give you a brand-new, custom space, it also can involve weeks of downtime, high costs, and a lot of stress.
When you want to get all of the benefits of a new shower—without the hassle—going for a one day shower install from Luxury Bath is the ideal choice. Our products lead the industry in superior durability and value, while our team offers efficient service that comes with:
Cost Savings: Our shower replacement options can save you a substantial amount of money on the total cost of bathroom remodeling, and we offer several financing options to fit your budget.
Minimized Stress & Mess: The skilled contractors we send to your home will take detailed measurements of your space to create a custom-built shower system that installs with minimal demolition and hassle.
Customized Results: Whether you need an accessible shower or want a spa-like shower system with modern elements, we can create a one-of-a-kind plan for bringing your vision to life with doors, surrounds, and stylish accessories.
Easy Lifetime Upkeep: Nobody enjoys spending hours each week scrubbing and scouring the bathroom, especially when it never seems to come clean. With our shower replacements, you get easy upkeep and reduced mold and mildew from nonporous, durable acrylic construction.
Discover More About Replacing Your Shower
The last thing that you want to deal with when replacing your shower is having a stressful experience that ends-up with less-than-ideal results. With Luxury Bath on your side, you can get the seamless installation and customized bath solutions you need—in as little as just one day. Learn more about our products and services today by giving us a call to speak with a friendly bath installer! You can also request an in-home consultation and free cost estimate now by filling out our online form.
---
Comments
No one has commented yet. Be the first to post one!