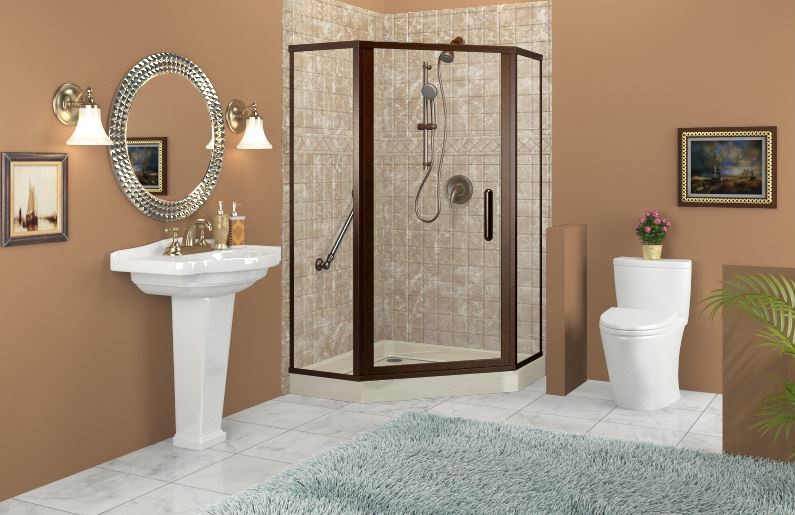 If you're a homeowner struggling to make a small bathroom work for you and your family, you're not alone. Space seems to be a problem many families struggle with, but there are some ways you can maximize the space in your bathroom, even when installing a new tub or shower. At Luxury Bath, we offer plenty of options for designing a bath solution to fit your bathroom's unique size.
Smaller Bathtub Options
Standard bathtubs are 5 feet in length. If you're pressed for space, you can consider installing one of our 4.5-foot replacement tubs and liners. You'll have multiple colors and styles to choose from. If you really want to minimize the amount of space your tub takes up, consider one of our narrow walk-in bathtubs. This style is also ideal for families with accessibility needs, as walk-in tubs come with built-in seating.
Smaller Shower Options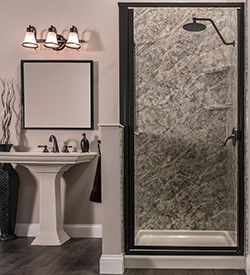 Do you prefer to completely bypass a bulky tub? Choose a space-efficient shower instead. We offer center drain shower bases that are designed to be a maximum of three feet in both length and width. But just because they're compact doesn't mean they're not customizable! You can choose a bold color to match your vibrant personality or more subtle tones for a more muted statement. We'll even take your bathroom's measurements so that we can match the size of your shower walls perfectly to your home.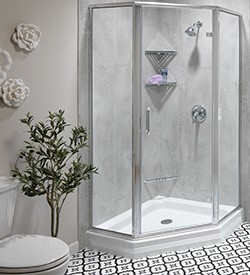 Our shower door options include models specifically designed for narrow shower systems, fitting enclosures from 29" to 47 ½". If you want to shave off even more square footage in your shower, consider a neo-angle shower base that fits snugly in corner to save you as much space as possible. Our bases come in white, almond, and biscuit colors, and homeowners have their choice of matching finished doors.
Wall Storage Options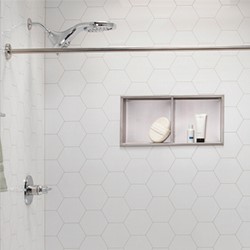 One of the most difficult parts of navigating life with a small bathroom is finding enough space to store all of your family's toiletries and bathing items. We offer convenient wall storage solutions that help organize your bathroom yet take up minimal space. Whether you choose one of our tiered wall caddies or a built-in niche shelf for your shower wall, you won't be held back anymore by lack of storage space.
Call Luxury Bath today or reach out to us through our online form for more information about our bath and shower solutions. We'll schedule you for an in-home consultation to help you design the bathroom of your dreams!
---
Comments