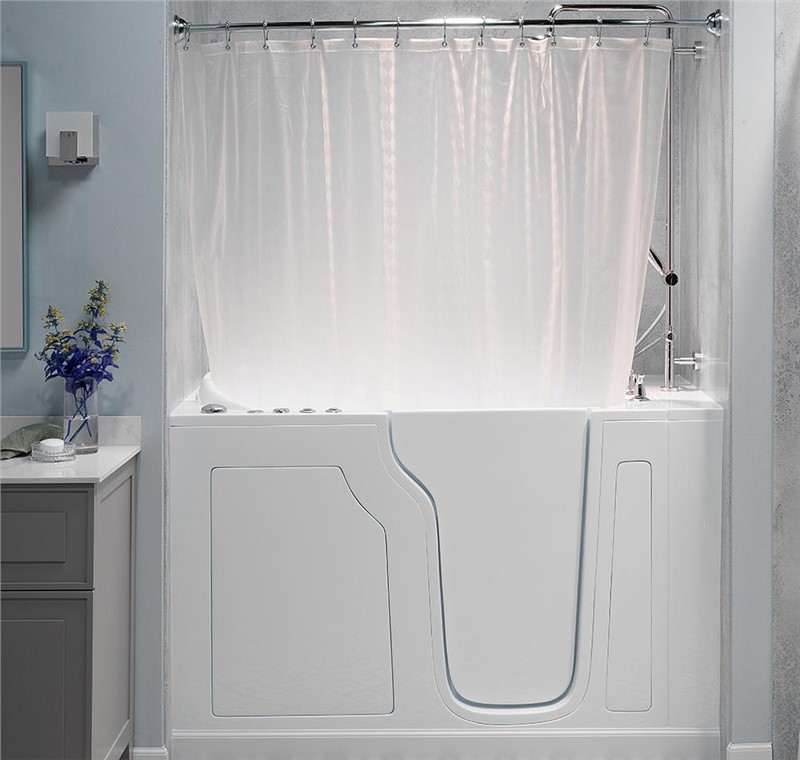 If you love the thought of a walk-in tub, but still would like some of the benefits of showering, consider a walk-in tub with a shower kit from Luxury Bath.
If you are preparing your home to age in place, your bathroom is the perfect place to start. At Luxury Bath, we have the perfect solution that will help you avoid any accidents and will make independent bathing safe and comfortable. Our walk-in tubs feature a wide range of accessible features, such as…
Low-Barrier Entryways
Safety Grab Bars
Comfortable Seating
Easy-to-Reach Controls
Whirlpool Jets
Leak-Proof Door
While a walk-in tub may be the perfect space to sit back and relax, you may still find yourself wanting to enjoy the features of a shower, too, such as being able to wash your hair without having to hold a showerhead in one hand.
Our Kits Make Showering Possible in your Walk-In Tub
You can have the benefits of both a comfortable bath and a modern shower with our top-quality shower kits. So, what is a Rain Shower Trim Kit? A rain shower trim kit combines the comfort of a bathtub with the convenience of a shower head. That way, you can still sit safely in your tub and have access to water overhead. The rain shower head hangs about 77" above the tub and features a handheld head that can be reached from a seated position in the tub.
Other features of this shower kit include…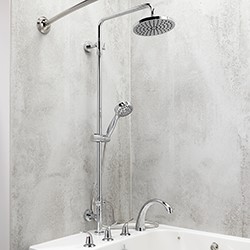 Chrome-plated, stainless steel construction
28" length slider bar
4 sleeve mount brackets
Chrome rain shower head
Chrome diverter
60" hose
To top it off, we offer a custom curtain rod for additional privacy and water containment while in the shower. The curtain height is specifically designed for walk-in tubs, which makes it the perfect addition for your new and improved accessible space.
Bring Your Shower Walls to Life with Unique Colors and Styles
Once you have all the functional pieces in place, it's time to make sure your bathing area matches your bathroom's aesthetic. This starts with choosing your shower wall colors.
Whether you're leaning toward a simple look with whites, grays, or almonds, or you want to take it a step further with concrete, quartz, or marble, you can count on our team to be there to make your dream bathroom a reality.
Additionally, you can choose from a wide range of textured tile patterns and Impressions etched wall patterns to really add dimension to your space. Some popular options you can choose to complement your bathroom's aesthetic include subway, hexagonal, and Roman Block.
Click/Tap here to see our available wall colors and patterns
Learn More About our Walk-In Tubs with Shower Kits
So, now you know what you need to bring your accessible bathroom to life. What's next? Get in touch with the local experts at Luxury Bath, and we'll take care of the rest. When you choose us as your trusted bathroom remodeling team, you can enjoy comprehensive care that meets you where your needs are. Give us a call to learn more about our products and services or fill out our online form to schedule a free consultation today.
---
Comments