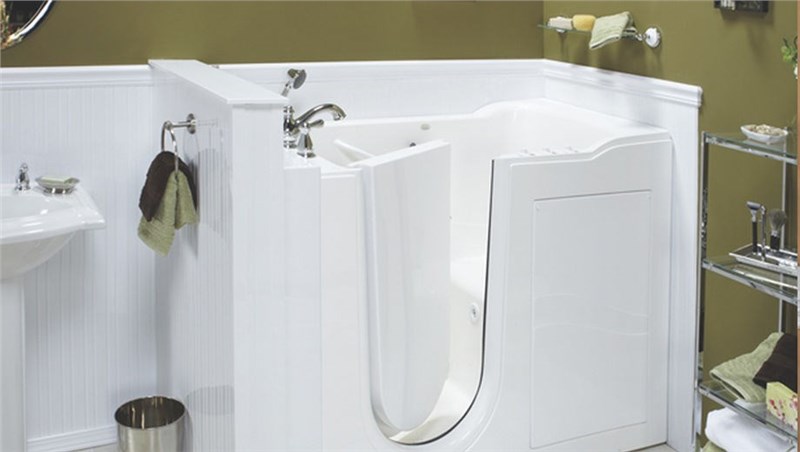 If you or a loved one is encroaching on a delicate age where mobility might not be as easy as it used to be, consider bathroom remodeling services that can transform your bathing experience. Luxury Bath will create a custom bathing solution in your already existing space that will allow you and your loved ones to comfortably bathe with independence. Our bathroom remodeling specialists are CAPS certified, so they can help you create the accessible bathroom solution you've always wanted!
Learn more about how our bathroom remodeling company can create an accessible and simple solution to your needs:
Grab bars – These can be easily installed in or around your bathing area to help you get in and out of your tub or shower.
New flooring – We offer flooring that can fasten down rugs or floor runners that will help prevent slippage. Consider replacing ceramic tiles with vinyl for easier standing.
Walk-in tub or tub with a seat – The ultimate solution to a truly accessible tub is a walk-in tub from Luxury Bath. These come with an easy opening door and a comfortable seat that will make the hassle of getting out of your tub a thing of the past.
Lighting changes - Install rocker-style switches for easier use and increase the light in your space for better visibility.
Expanded door frames – For extra room for walkers and wheelchairs, consider expanding doorways with the help of our comprehensive remodelers.
Update your vanities – We can install handicap-accessible vanities that include a lower height with easier to use handles.
Whether you or your loved one is currently suffering through mobility issues or you're approaching that age and are looking to future-proof your home, choose Luxury Bath as your source for comprehensive, aging-in-place bathroom remodeling services. We can help you extend your personal independence by installing new, custom-built bathing solutions, and by making modifications to your current bathroom equipment, fixtures, and vanities.
Whether it's grab bars and a zero threshold shower pan or a comprehensive bathroom remodel with all the works, you can depend on our expert remodelers to create the cost-effective solutions you require. Call us or fill out our online form to get in touch with a Luxury Bath dealer near you.
---
Tags
bathroom remodeling company
walk-in bathtubs
accessible bathroom remodel
---
Comments
No one has commented yet. Be the first to post one!