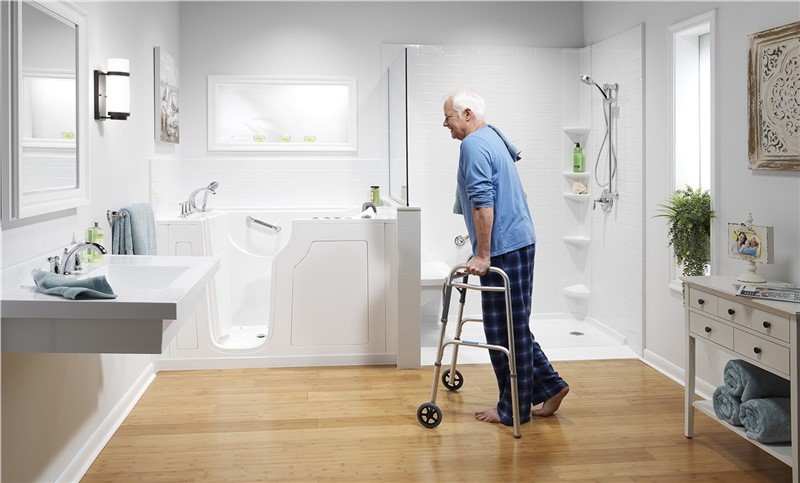 The bathroom is one of the most used rooms in the house, a place where we spend a considerable amount of time showering, bathing, relaxing, and freshening up. As grateful as we all are for the usefulness and practicality of our bathroom spaces, it's important to be cautious when we're using the bathroom. After all, the bathroom can be a very dangerous place, as slippery floors and soapy surfaces are often the cause for serious injuries and even fatal accidents in the home.
For many household members who are aging, suffering from physical injuries, handicapped, or otherwise physically impaired, using the bathtub or bathing independently is risky. Limited mobility means difficulty climbing in and out of the high-walled bathtub which can lead to falls.
If you or someone in your household is unable to bathe on their own or has given up using the bathtub altogether, it's worth it to consider installing a walk-in tub. Take a look at some of the benefits of walk-in tub installation from your expert team of contractors at Luxury Bath, and find out whether this safer alternative to the traditional bathtub is worth it for your home.
Popular Accessibility and Safety Features of Walk-In Tubs
A walk-in tub differs from a regular tub in many ways, the most important one being the low-threshold, watertight door entrance. Traditional tubs have high walls that need to be climbed over when getting in and out, which can be very dangerous for those living with limited mobility.
Because walk-in tubs can be customized, homeowners can essentially design the tub based on their own safety needs and requirements. Some of the most popular accessibility features include special configurations for wheelchair transfers (slide-through tubs), strategically placed handrails and grab bars, easy-to-reach controls according to specific heights, slip-resistant surfaces, extra-wide entry doors, and more.
Style Choices for Walk-In Tubs
Just as the customization options for safety can vary, homeowners have plenty of choices when it comes to designing the style of a new walk-in tub. To start, the actual layout can be chosen from various models, and also the color of the materials, control options, seat choices, and other features can also be customized.
Hydrotherapy Benefits of Walk-In Tubs
Elderly homeowners and those living with physical impairments often suffer from tired muscles, arthritis, and other ills. It's not hard to see why a long, hot soak in a bathtub can be a great way to relieve stress and muscle tension, but for those that can't climb in and out of a tub, this kind of relief isn't easy. That's why walk-in tubs are such a great choice for so many people living with limited mobility. Walk-in tubs offer excellent therapeutic relief, with hydrotherapy options like whirlpool jets, colored lights for ambiance, more features meant to enhance the wellness experience.
Are Walk-In Tubs Affordable?
Walk-in tubs have been around for a while now, which means that today's installations have improved dramatically in function, design, and beauty. This also means that the prices for walk-in tubs are much more affordable today than they were in the past, and homeowners can easily enjoy a walk-in tub conversion or brand-new installation without spending a fortune.The price of your walk-in tub will depend on various factors, including the features and brands you choose for your home. It will also depend on the company you choose to install the product, as well as your geographic location and other personal considerations. In general, the price of a walk-in tub will likely fall between $1,500-5,000 but can skyrocket to $20,000 or more for the most luxury brands and premium customization options.
Walk-in Tub Installation from Luxury Bath
At Luxury Bath, we're committed to making home remodeling an affordable reality for our customers. With attractive prices on exceptional products and fast, one-day installation options, we do everything we can to take the stress out of home remodeling—to help you enjoy the bathroom of your dreams without worry.
If you're interested in improving the safety and comfort of your home with a beautiful new walk-in tub, give our expert bathroom remodeling contractors a call at Luxury Bath. We'd also be happy to visit your home for an on-site pricing estimate and design consultation for your next bathroom remodeling project—just fill out our online form and we'll get in touch with you right away.
---
Comments