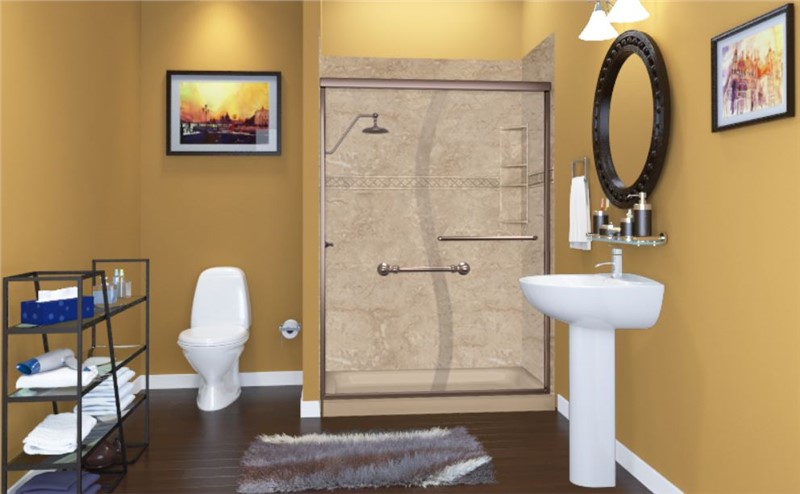 Are you tired of trendy, minimalist bathroom styles that can feel cold and unwelcoming? Do you wish your bathroom was more indulgent and comfortable? If so, creating a Tuscan-style bathing area inside your home could be an excellent option for your family.
The Tuscan look blends a luxurious combination of rustic materials, textured surfaces, and natural tones to create a welcoming feel anyone would love.
Instead of feeling like you're stepping into a sterile environment, this type of aesthetic is reminiscent of the Tuscan vacation you might be longing for.
If you'd like to design the perfect Tuscan-style bathing area in your home, Luxury Bath has some ideal options to help you along.
What Types of Colors, Materials, and Patterns Should You Be Searching For?
In a Tuscan-style bathroom, the overwhelming objective is to bring the outdoors in. By utilizing subtle Mediterranean blues and luxurious tans and terracotta's, you'll be creating a space that feels like it was created in nature. Some of the most popular color options at Luxury Bath include almond, biscuit, and sandbar.
Finding the right pattern is also a significant priority. Again, you'll want to choose products that don't feel so human-made. Some of our favorite Tuscan patterns are Canyon Rock, Sandalwood, Sierra Sand, White Slate and White Travertine
Canyon
Rock

Sandalwood

White
Travertine



It's not just colors and patterns that are beneficial in creating your perfect Tuscan-style bathing area, however. The type of textures matter, too.
When choosing tiles for your shower or bath surrounds, why not consider a textured surface, such as our piazza tiles? You'll feel like your new tiles were pulled straight from the buildings in Tuscany!
All of our gorgeous bathtub and shower products can be fully-customized in any of the colors, styles, and patterns mentioned above.
Adding Additional Tuscan Elements to Your Bathroom
Are you looking for more simple ways of bringing the Tuscan countryside into your American bathroom? Why not choose additional accessories, such as faucets, drains, and grab bars that are made with a wrought iron look in mind?
Bronze and matte black accessories are also popular options for anyone who's dreaming of their own Tuscan bathroom oasis.
Other simple changes, like purchasing new towels, cabinet handles, or paint, can also help enhance your space's overall design.
Learn More About Creating Your Own Tuscan Style Bathing Area
If you're ready to begin the Tuscan-style makeover process in your home bathroom, it's essential to find a trusted team of bathroom contractors that can help lead you through the experience.
At Luxury Bath, our professionally trained crew has the knowledge and skills needed to help you design the perfect Tuscan-style bathroom. If you're ready to get started, give us a call today or fill out our online form to set-up a free, in-home design consultation.
---
Comments
No one has commented yet. Be the first to post one!