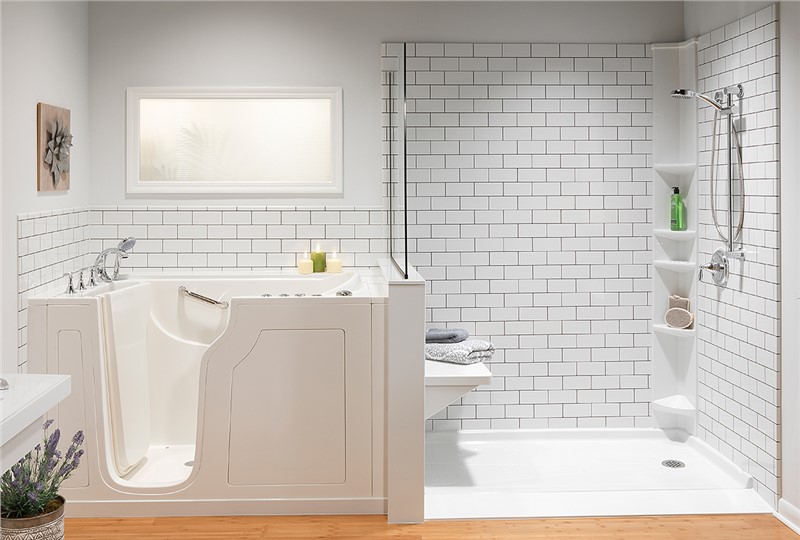 When it comes to improving accessibility in your home, one of the best things you can do is renovate your bathroom. As it is, your bathroom is one of the most potentially hazardous spaces in your home. In fact, approximately 235,000 people visit emergency rooms every year due to getting injured in the bathroom, according to the Centers for Disease Control and Prevention.
There are plenty of ways to make your bathroom a safer place and make it more accessible for those with limited mobility. The most important of these is to renovate the wet area in your bathroom. Let's take a closer look at the top accessible solutions for your bathtub or shower.
Walk-In Bathtubs
Bathtubs can be a great space to relax and unwind from a long day. For many however, taking a bath can involve a little more stress when it comes to entering and exiting the tub. Rather than risking a fall before or after a bath, replace your outdated tub with an accessible walk-in bath.
Our walk-in tubs feature a convenient door with a low-barrier entrance, so you can easily step into your tub without hoisting your leg over a high ledge. Once closed, the door provides a perfect seal, so you can fill up your tub as normal. Plus, you can lay back and relax on a comfortable built-in seat.
Walk-In Showers
If a shower is more your style, there are plenty of accessible options that will make your daily routine simple and stress-free. Walk-in showers feature a low-barrier threshold and your choice of sliding door to make stepping into and out of your shower a breeze.
Roll-In/No Barrier Showers
For people who use wheelchairs, there's an even better showering option: Roll-in showers. These barrier-free designs allow you to pass directly into your showering area without any extra hassle. To top it off, you can replace any doors that may be harder to use with shower curtain rods to make accessing your shower area simpler.
Grab Bars & Shower Seats
Whether you opt for a walk-in or a roll-in shower, you can make your space even more user-friendly with ADA-compliant grab bars and built-in shower seats. This will provide an extra layer of security and comfort while you are actually using your shower. These can also be customized to match the rest of the hardware in your shower, so you don't have to worry about messing up the appearance of your space as a whole.
Get Accessibility Without Sacrificing Style
Who says accessibility can't look good? When you choose Luxury Bath for your bathroom remodel, you can enjoy accessible solutions that add to your aesthetic rather than taking away from it.
We combine safety, accessibility, and luxury all into one. Our tubs, walls, and bases come in a variety of colors and patterns, which can be further customized with your choice of accessories. You can also choose a high-quality finish to tie everything together, such as polished chrome, brushed nickel, oil-rubbed bronze, or matte black.
If you're ready to start planning your accessible bathroom remodel, get in touch with the local experts at Luxury Bath today. On top of providing premium Luxury Bath products, we can complete most accessible remodels in as little as one day. Give us a call to learn more about our services or fill out our online form to schedule a free consultation today.
---
Comments